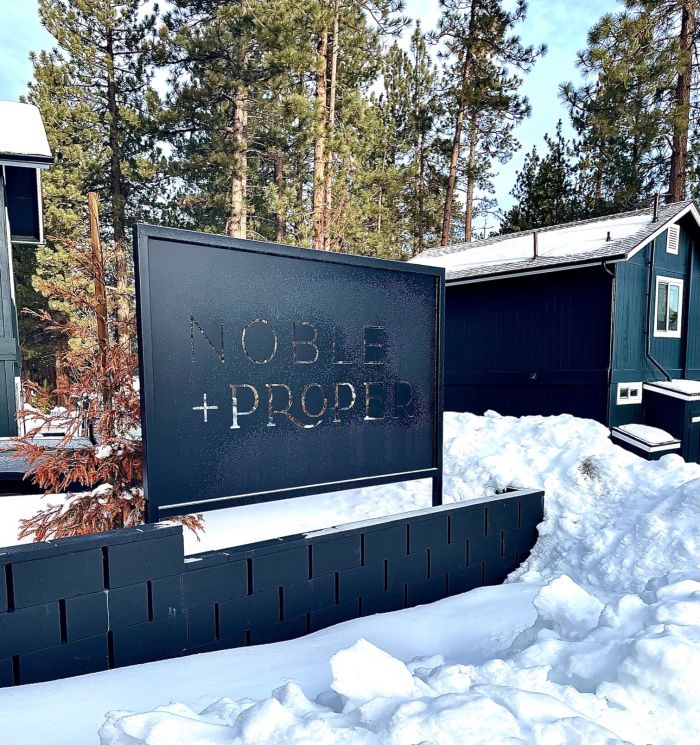 Big Bear's Luxury Noble + Proper Cabins
Jill Weinlein
Interior designer Sara Simon, founder of Handsome Salt, and her husband Sven purchased a group of cabins in Big Bear in 2021, and lovingly renovated and refreshed each one to honor beloved family members at Noble + Proper.
These luxury 8 uniquely decorated mountain cabins reflect the person's personality respecting their memory and legacy.
Modern amenities and conveniences include no front desk at this property. Check-in is keyless, and guests receive a welcome email 24 hours before arrival with check-in instructions and an access code to enter their private cabin.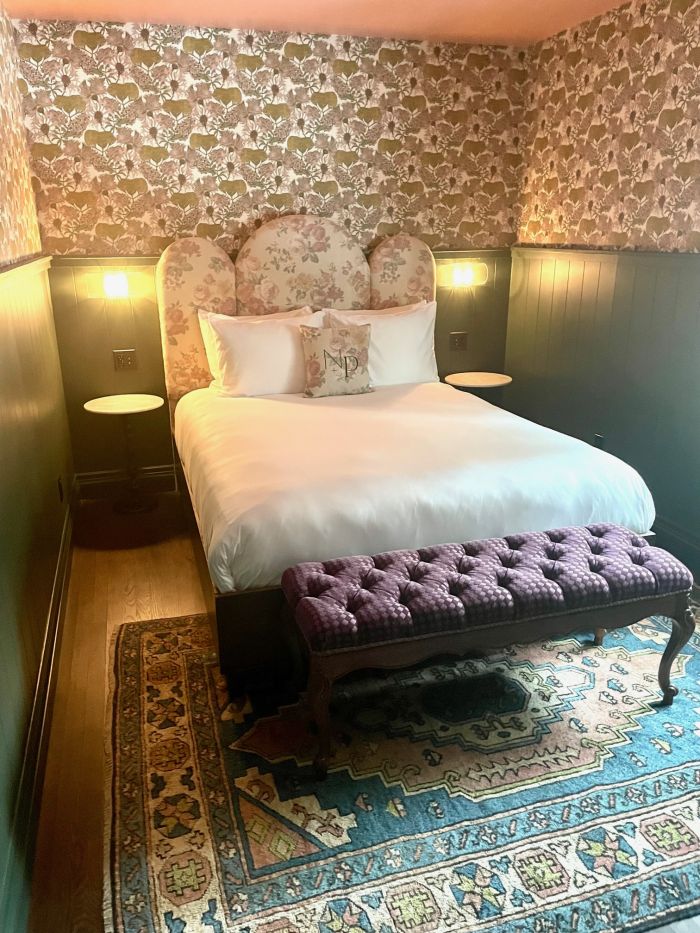 Jill Weinlein
Staying in Elfriede's Haus, guests will notice her name and image etched on the front door. Walking inside, one learns about this revered family member. The 830 square feet, two-story cabin is cozy and furnished in feminine pink, green and cream colors. Warm wood tones, and exciting tile work in the kitchen and bathrooms dazzle each room. Books and trinkets on shelves enlighten guests to what Elfriede enjoyed reading and collecting.
Upstairs there are two-bedrooms, each have one queen bed fitted with Parachute Home linens. Windows open to allow the crisp and fresh mountain air inside. A half-bath separates each bedroom for convenient access while upstairs.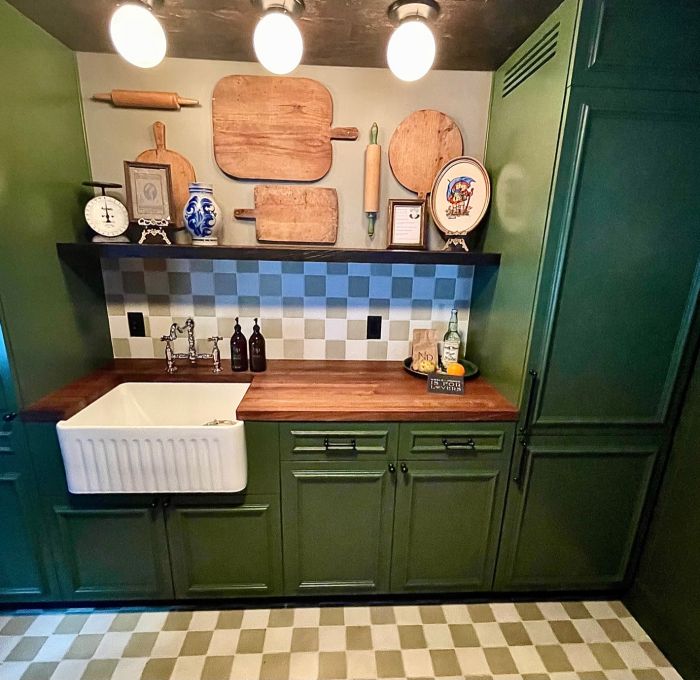 Jill Weinlein
The well stocked kitchen has a full-size refrigerator, microwave, plates, glassware, silverware, a toaster, kettle, and french press for preparing breakfast in the morning. A complimentary bag of coffee and bottle of sparkling water await on the countertop.
It also tells a story about how Elfriede enjoyed her blue and white china displayed on the wall, as well as her needlepoint in frames, wood rolling pins and different shaped wooden boards.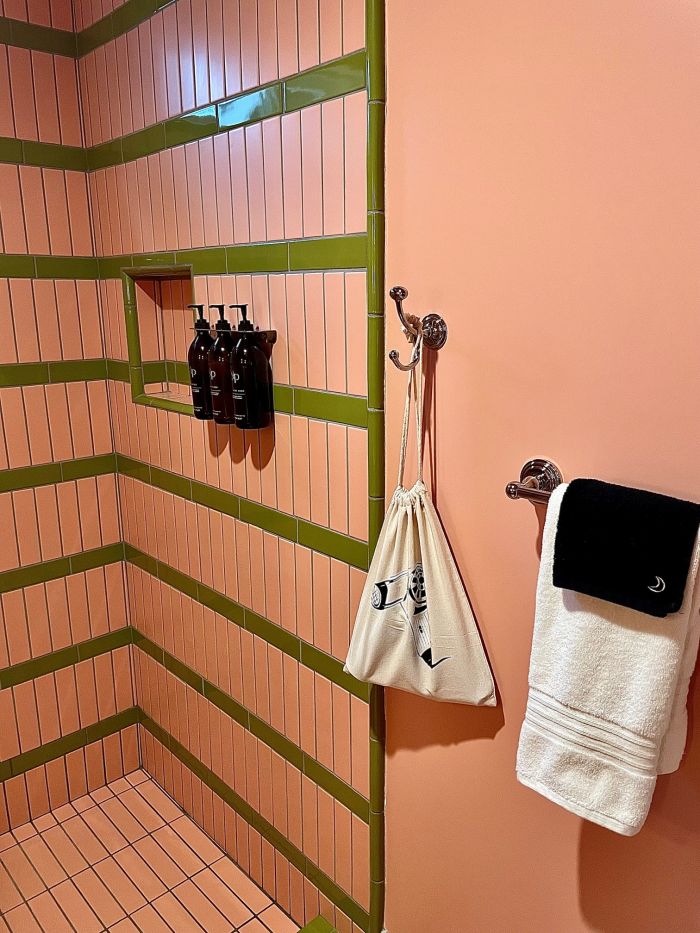 Jill Weinlein
Also downstairs is a pink and green tiled bathroom with a large walk-in shower and All Folks bath amenities. Nice touches include a black washcloth for evening facial cleansing.
The sitting area has a soft and comfortable sofa with a fringe base and reading chair, plus 50′ framed Samsung television. In the corner is a vintage looking gas fireplace with a automatic timer to turn on and off. All cabins have central air-conditioning and heat.
Other cabins are cleverly named Otto's Chalet, Fran's Flat, Lucille's Manor, Joe's Tavern, Joseph's Hut, Maria's Cottage and the extra spacious Orville's Lodge. This 3,000 square feet cabin offers four bedrooms and four-in-a-half baths for families and groups of friends. It has all the conveniences of a luxury mountain home including a two car garage in the front and cedar hot tub in the back.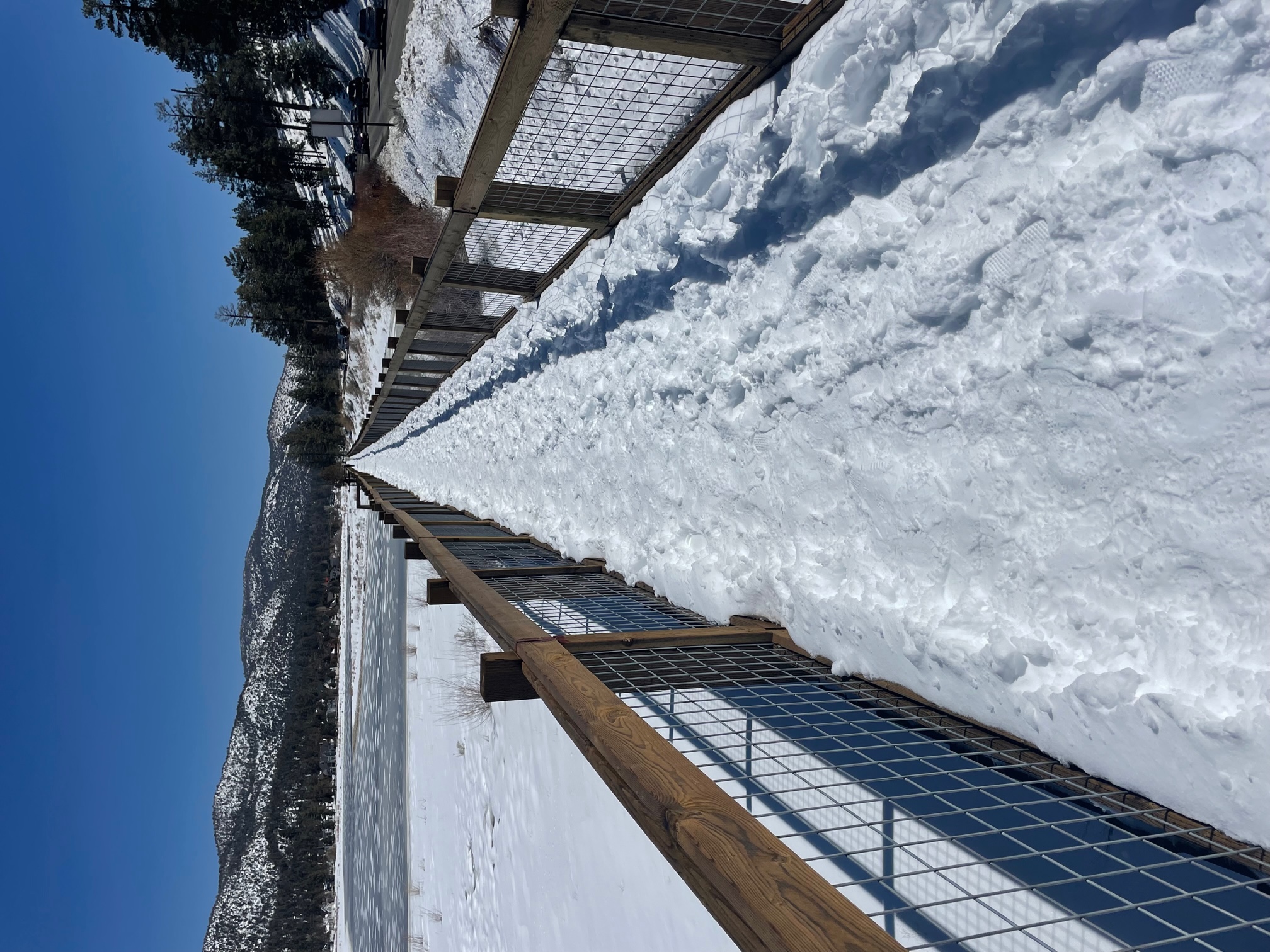 Jill Weinlein
Noble + Proper is less than two miles from winter and spring skiing resorts and play areas. At an altitude of 7000′, Big Bear's snow covered terrain offers two world-class ski resorts Snow Summit and Bear Mountain with the highest lift reaching 8,805 feet. Big Bear offers a snow play area with lift-assisted inner tubes, walking and hiking trails.
The Alpine Slide at Magic Mountain is a bobsled experience. The Alpine Slide's Mindshaft coaster is the first and only mountain coaster ride in California. This thrill ride offers 360-degree corkscrews, bridges, tunnels, drops, dips and twists.
One of the newest attractions includes Soaring Eagle, a family friendly comfortable side-by-side chair-lift seat that offers riders a flight like an eagle soaring above Big Bear. During the summer there is a double water slide to cool down, go karts and an 18-hole miniature golf course.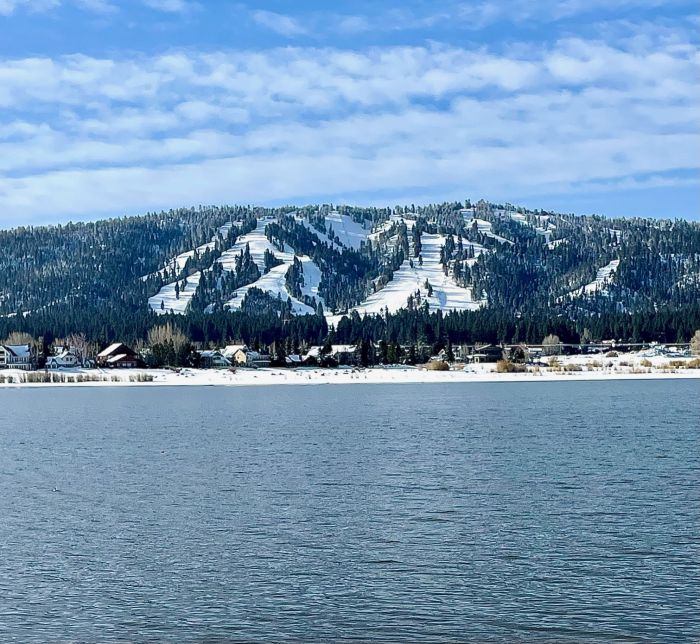 Jill Weinlein
Summer and fall activities include boating, mountain biking and fishing. Big Bear Lake offers some of the finest freshwater fishing in California. There is an abundance of trout, bass, catfish, and blue gill. Marinas around the lake offer a variety of boat rentals, kayaks, jet skis, and stand-up paddle boards to enjoy water activities.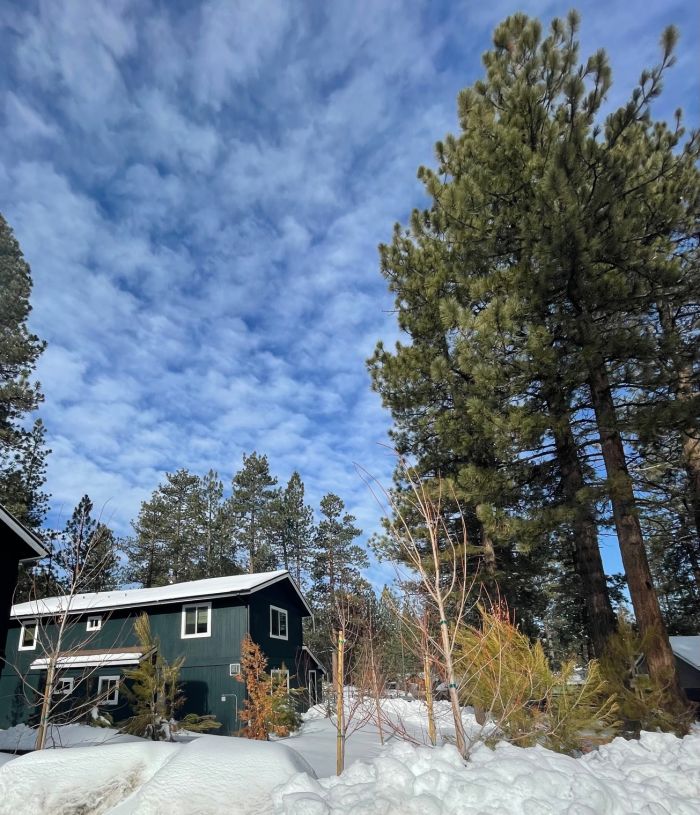 Jill Weinlein
During the Spring through Fall season, Noble + Proper have complimentary bicycles for guests to take out for a spin. There is a main area in the center for guests to congregate to play horseshoes, swing in a hammock, or prepare a bbq dinner and dine al fresco under the towering pine trees. Cabin rates begin at $495.

!function(f,b,e,v,n,t,s)
{if(f.fbq)return;n=f.fbq=function(){n.callMethod?
n.callMethod.apply(n,arguments):n.queue.push(arguments)};
if(!f._fbq)f._fbq=n;n.push=n;n.loaded=!0;n.version='2.0′;
n.queue=[];t=b.createElement(e);t.async=!0;
t.src=v;s=b.getElementsByTagName(e)[0];
s.parentNode.insertBefore(t,s)}(window,document,'script',
'https://connect.facebook.net/en_US/fbevents.js');
fbq('init', '1443663848979460');
fbq('track', 'PageView');